PART 2. ADMINISTRATORíS GUIDE
Accessing Your Cloud Account
Logging into the Everyware Cloud Console
---
Overview
The Everyware Cloud Console is a secure, web-based Graphical User Interface (GUI) that provides full control over the Everyware Cloud platform and allows you to manage:
∑ Users
∑ Devices
∑ Data
∑ Rules
Logging into the Everyware Cloud Console
To access the Console, you must have an Everyware Cloud account that is created by Eurotech.† To request an account, contact your regional Eurotech sales manager or email sales.us@eurotech.com.† When your account is created, you will receive your account credentials (URL, Username, and Password) in a registration email.
On your development PC, log into the Everyware Cloud Console (https://console-sandbox.everyware-cloud.com) using your credentials.† Use a modern browser to access your Everyware Cloud Console.
On the first access, the Console may take a few seconds to load as it downloads the Console JavaScript application into your browser.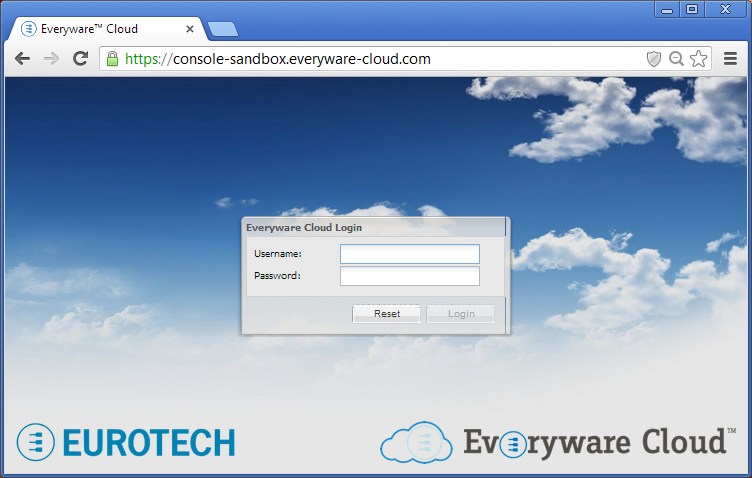 After log in, you will get the following Overview webpage.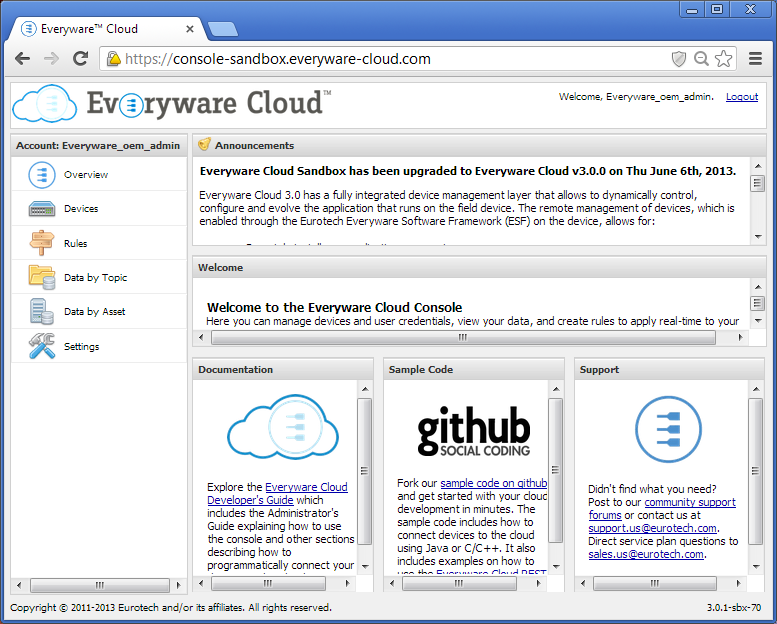 From the left column of this webpage, you can select:
∑ Settings - to manage your Everyware Cloud account and users
∑ Devices - to manage your devices connected to the Everyware Cloud
∑ Data by Topic or Data by Asset - to query and view data being published to the Everyware Cloud from your devices
∑ Rules - to create business logic to perform specific actions based on your data